Welcome To Microbiology Department
---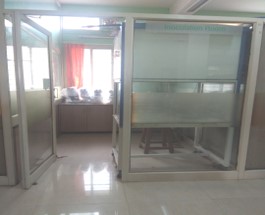 'Department of Microbiology'
'Department of Microbiology'
'Department of Microbiology'
About the Department
Introduction
A bit of science distances one from God, but much science nears one to him.... The more I study nature, the more I stand amazed at the work of creator?. - Louis Pasture
The Department of Microbiology was started in 1990 at the undergraduate level with the aim to inculcate scientific temper amongst students from rural and hilly regions. The department strives on total grooming of the students through basic skills of microbiology. The postgraduate program was started in the year 2007 as there was no such course available to students in this region. The department believes in inculcating the skills among the rural students to cope up with the global challenges. The participative learning of the students is a priority to aware them about the cross cutting issues from their theory and practical courses. We focus on enriching competence of the students to achieve their desirable goals.
About the Courses
| | | |
| --- | --- | --- |
| Name of the Programme | B.Sc. Microbiology | M.Sc. Microbiology |
| Duration | Three Years (CBCS 2019 Pattern) | Two Years (CBCS 2019 Pattern) |
| Syllabus | F.Y.B.Sc., S.Y.B.Sc., T.Y.B.Sc. | M. Sc. Microbiology-Part-I & II |
Vision
The Department of Microbiology aims to build up skilled human resources for the well-being of humanity and to inculcate the sense of scientific responsibilities, personal hygiene and safety among them.
Mission
To enrich students' knowledge and train them in the pure microbial sciences
To introduce the concepts of application and research in Microbiology
To inculcate sense of scientific responsibilities and social and environment awareness
To help students build-up a progressive and successful career
Teaching Methods
Effective Delivery of the Curriculum
Interactive Lecture method
Remedial Teaching for slow learners
Experiential Learning through practical courses
Collaborative Learning: Students visit different industries, research centres, blood banks to acquire knowledge about instrumentation, working protocols